Polish and revive your worn down, scratched and old furniture with this incredible Wood Seasoning Beeswax. The beeswax with keep your wooden furniture, floors, and everything in your home in top condition for years. The Wood Beeswax is extremely easy to apply, you will question why you didn't start using it sooner!
Just a small amount of the Wood Seasoning Beeswax goes a long way. Have your furniture looking brand new in just minutes after applying the beeswax. The beeswax protects wood from absorbing moisture, getting scratches, and drying out.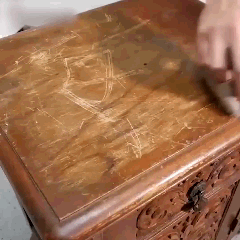 Features:
?
Polished & Natural Shine: The beeswax will give your wood furniture a smooth finish and a polished, natural shine. Keep your furniture and floors looking brand new!
Protects Wood from Future Damage: Protect wood from cracking, getting scratches, drying out, and from moisture damage that comes from water rings and accidental spills.
All-Natural Ingredients: Non-toxic and contains no harmful chemicals
Multifunctional: Can be used for wood furniture, wood floors, wood cabinets and more
How to Use:
1, Apply a small amount of Wood Seasoning Beeswax onto the sponge included (can also use a dry cloth or rag of your own if desired)
2. If wood is very dried out, allow the beeswax to sit for a few minutes
3. Wipe down any remaining wood wax from the surface with a clean, dry cloth
Product Specifications:
Ingredients: Natural Beeswax
Weight: 85g
Package Includes:?
1 x Wood Seasoning Wax + Sponge