Reduce dryness and filter out irritants in the air that cause allergies with the?USB Cactus Humidifier. The cactus humidifier is adorable and will have you breathing cleaner air in no time. The air in your home can get extremely dry in the colder months when the heat is running and there is no fresh air-flow. Humidifiers work by emitting water vapor to add moisture to dry air.?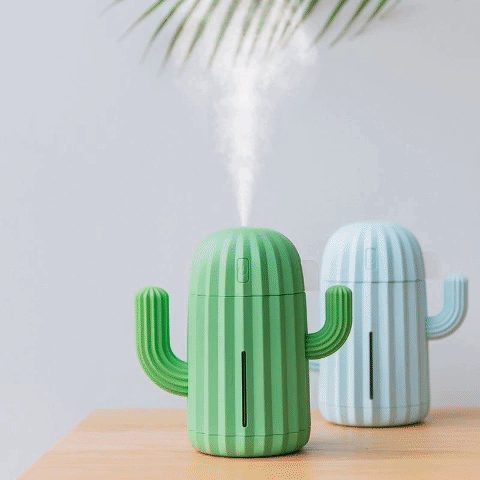 The cute?Cactus Humidifier?is simple to use and has a multifunctional design: it works as both a humidifier and a night light. The design of the humidifier is small and portable, but it is very powerful. Perfect for using at any time of the day: Have the humidifier night light running while working in your office, watching tv, sleeping, and more.
The humidifier comes in three different colors: green, pink, and blue.?
Features:
Multifunctional Use:?Works as both a humidifier and a lamp
Adorable Design:?Everyone will be asking where you got it
Small and Portable:?Small but powerful humidifier, can bring on the go to your vacation, trips, office
Powered by USB:?Can plug into any USB port, such as a laptop or power bank
Working time:?8 hours until automatically turns off
Quietly Runs: 30 decibel sound, runs very quietly
Product Specifications:
Capacity: 340mL
Max Mist Volume: 35mL/hour
Working Time: 8 hours (automatically shut off after 8hrs)
Size: 3in x 5.5in x 5.8in
Product Weight: 190g
Powered By: USB?
Color Options: Green, Pink, Blue
Material: ABS + PP + PET + Electrical Components
How to Use:
1. Remove the lid of the cactus humidifier and add water to the maximum fill line.?
2. Screw the lid back on, connect the USB cable into a laptop or power bank.
3. Press the start button and? the adorable Cactus Humidifier Lamp will start running! Hold down the power button to turn on the Night Light function.
Package Includes:
1 x USB Cactus Humidifier Night Light
1 x USB Cable
1 x User Manual