The Super-Strong Transparent Adhesive Wall Hooks allow you to hook anything on the wall almost anywhere in your home or office. The Transparent Wall Hooks are damage free and require no nails or drilling! Just peel off the adhesive cover and stick it right onto the wall and have a convenient wall hook anywhere.?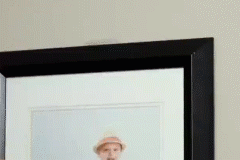 ?
Features:
Can be peeled off and reused up to 500 times with no traces or damages left on the wall
Made of extremely strong adhesive and stainless steel- can lift up to 25kg (approx. 55lbs)
Waterproof and oil proof, can survive different environments and keep its stickiness
No nails or drilling required- just stick it to the wall and have a convenient wall hook anywhere
Perfect for hanging kitchen utensils, toiletries, clothing, garage tools and more on your walls
Works on any smooth surface, including wood, glass, ceramic tiles, wall
Transparent design makes it blend in well with any surface
Product Specifications:
Material: PVC, high-quality strong adhesive, stainless steel
Size: 6x6 cm (2.37 x 2.37in)
Can be purchased as 1 hook, 5 hooks, or 10 hooks. Save $$ by buying multiple at once with our special deal!?
?