Do you have trouble reaching your back while showering? Get those hard to reach areas with the Silicone Back Scrubber!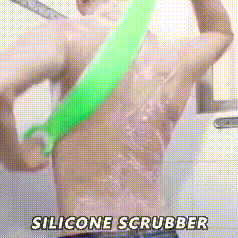 The Silicone Back Scrubber has a handle on each side of the strap to help you reach the center of your back when you¡¯re bathing. Get rid of dirt and grease from your skin with ease! The Back Scrubber has little exfoliation brushes to gently exfoliate your back, cleaning off all dirt and grease that get stuck in your pores.
Features:?
?
Double-sided exfoliating bristles?
Easy to use, reaches all those hard to reach areas
Deep cleans and exfoliates pores to eliminate acne, grease, and trapped dirt
Makes your skin smoother in just one use
Made of food-grade silicone, BPA free
Suitable for everyone
Is gentle on the skin while exfoliating?
Product specifications:
Package includes 1 x Silicone Back Scrubber
Weight: 218g
Size: 60 x 11cm