Be The Sparkle Of Every Party And Leave Everyone Speechless! 
Showcase your creativity with this dazzling one-of-a-kind costume and leave your friends and family spellbound! 
Over 300 energy efficient LED lights, hand-stitched with high quality micro-fiber, providing absolute endless hours of fun and joy to all our customers - across ALL ages! 
Perfect for any event - dance festivals, children's parties, costume competitions, carnivals, birthday parties, Christmas, belly-dancing, stage performances etc....the possibilities are only limited by your imagination. 
Product Highlights
Rainbow LED Lights - Give that "Rainbow Pop" to your wings and be the star of YOUR show!
Unique Design - Created by leading costume designers, this premium rainbow edition is hand-stitched with over 300 unique LED light bulbs, instantly making you and your little ones the center of attention! 
Simple to operate - just pop in 3 AA batteries, Velcro® secure around your neck and you're ready to rock your performance!
Sparklefy™ every festival, party, carnival - Whether it's for your dance recital or children's party...we've got you covered. Deliver a rainbow sparkling performance and leave your audience spellbound! 
100% tested and safety assured - Awarded official certification marks by US "FCC" and EU "CE".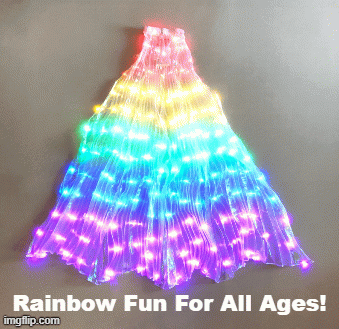 Specifications 
Adult: Height (5-6ft) 
Wing span (10ft)             
Child: Height (4-5ft) Wing span (8ft)
Our Money-Back Guarantee
If for any reason you feel that this product isn't for you, just send the product back to our store and we will process a full refund. No questions asked.
Note: Please be advised that all orders are processed within 2 days and Free Worldwide Delivery takes 17-25 days. Express shipping,which takes 8 -13 days, is available for an additional cost. Note that customs checks and security controls could cause shipment delays. Thank you for your understanding.