The LED Digital clock has a light message board with a highlighter.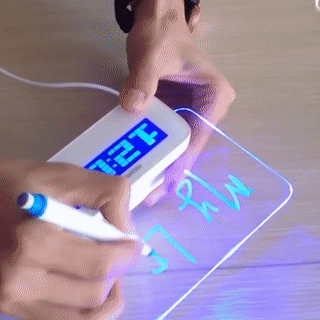 You can switch the time, date, temperature or display model.?There are 12 hours or 24 hours format selection, degrees Celsius or Fahrenheit option and three regular alarm clock and snooze function.
This clock?has four USB charging hubs in the back.

It is a great multi-function assistant?

When you are outside, you can also leave a message on the board to your family. Or you can set at some alerts to ring happy birthday song.

Message board can be supporting the use of fluorescence pencil writing on the message board, lit the lamp LCD background, will appear in the message board beautiful handwriting.

You can write what you like on the board. Even in the night the word and the LED display can be read.
Appearance of watch: White
Display screen: LED screen
USB hub: with 4 USB port hubs
Power supply: USB charging port or AAA battery (Batteries not included)
Backlight Color: Blue
Size: Approx. 138 x 117 x 64mm (max)