Turn your meals into an exciting light show with the Laser LED Chopsticks!
Whether you're eating sushi, noodles, dumplings, or more, you can make it so much more fun with the Laser Chopsticks! No more using boring bamboo chopsticks.?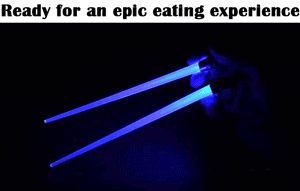 These awesome LED chopsticks are reusable and use 3 x Lithium batteries to light up. Just press the button and your laser chopsticks come to life! They come in a variety of colors.?
Length: 10.25 inches
Food Safe Material: BPA-free, ABS Plastic