Save space in your closet with the Hanging Compression Vacuum Clothes Bag! Great for large, bulky items of clothes such as coats, jackets, sweaters, dresses, and more; the vacuum clothes bag compresses your clothes to open up space in your closet. Not only will the hanging clothes bags allow you to have tons of space, they will also keep your clothes protected from water, odors and humidity.?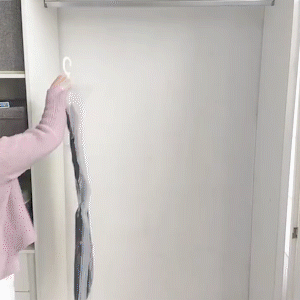 Features:

?
Save space in your closet by compressing bulky items, such as coats, sweaters, jackets
Protect your clothes from odors, humidity, water with the vacuum bags
Compression bag has a double-zip seal and non-return valve so that no air can get in to it
Comes in two sizes: Large (67cm x 110cm) and Small (67cm x 90cm). Large is great for dresses, long sweaters, winter coats, jackets; Small is great for smaller coats, skirts, shirts, blouses
Easy to use- Just hang the vacuum bag in your closet while its empty, then add the clothes to the hanger rings. Seal the bag with the provided clips. Place vacuum hose over the valve and vacuum the air out. Close the cap to tightly seal it.
Product Specifications:
Materials: PE, Nylon Valve
Product Weight: 150G
Size: Large (67cm x 110cm) or Small (67cm x 90cm)
Package Includes:
1 x Vacuum Storage Clothing Bag