Make the Grese gun clean, full refilling without waste.
A Grease Gun Dual-purpose grease suction tray, alloy steel ring, high quality soft edge, mechanical design, ensure no grease leakage when you refilling your grease gun.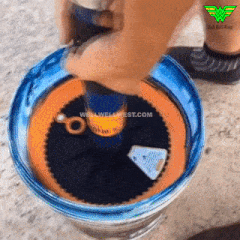 Dual interface with grease gun in 5.6cm and 6.0cm diameter. Suitable for most grease barrels 14kg to 16kg in the markets.
Universal Use With: 10KG, 15KG Grease Pails, diameter from 24cm- 29cm.
Internal threaded adapter for directly connecting grease barrels. Advance rubber technology and avoid dust to enter to your grease barrels, prevent your grease contaminated.
Rubber Lined Grease Gun/ Pump follower plate, can save you a lot of time and hardship.
Make the grease gun clean, full refilling without waste. 
Specification:
Materials: Iron, Rubber
Dimension: 290mm
Package Included: 1* Quick Grease Refilling Plate