Honey, as delicious and healthy as it is, can be extremely annoying and messy to use. Just spilling a tiny drop can make a sticky mess to clean up. The Glass Honey Drip Dispenser makes pouring honey quick and easy without spilling a single drop.?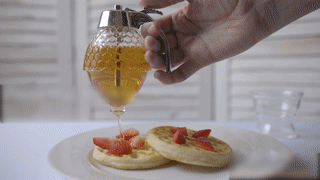 The no-mess honey dispenser stores, warms, and pours honey simply and neatly. All you have to do is fill the glass base with warm water and set the honey dispenser on top. Just wait a few minutes and then you have perfectly ready-to-pour honey. Push down on the trigger-release top and pour however much honey you desire. Release the trigger to close the drip dispenser opening. So simple, and no mess left behind!
?
Features:
Trigger release to dispense the honey to prevent spills and messes
Perfect for honey, sugar, syrup and more
Comes with glass honey dispenser and glass warmer
Holds one cup (8 oz) of honey
Warmer holds 1/3 cup of warm water
Beautiful design, glass base of honey dispenser has a honeycomb pattern with a chrome trigger handle
Durable and high-quality glass
Dishwasher safe
Material:
Dispenser and stand: Glass
Lid: Food grade acrylic material?
Package includes:
1 x Glass Honey Dispenser with Glass Warmer?