Stick the Cat Treat Nibble Ball right onto the wall and let your cat enjoy every lick while providing your cat with nutrition, energy, and entertainment!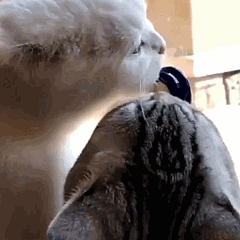 Features:
Rich in nutrients. The cat nibble contains fish gelatin and cat peppermint. These both contain high-grade collagen and different vitamins and calcium. This includes zinc, iron, selenium, and other nutrients.
Contains catnip. Catnip attracts cats to its taste and helps them spit up hair balls.
Can stick the nibble ball anywhere. The bottom of the treat has a strong adhesive that can be placed on the floor and on walls.?
Product specifications:
Ingredients: Cat peppermint, fish gelatin, catnip
Size: 1.57 x 0.79 x 0.39 inches
Package includes: 1 x Cat Treat Nutrition Ball?