Easy to use and operate, convenient for carrying and storage.

Save you lots of cost and time to buy a piece of new glass.

Match it with a curing light to achieve better repair effects.

Practical car glass repair tool kit for all wise car owners.

Allow you to cure and repair various kinds of damage caused by traffic accidents, impact, collisions, bump.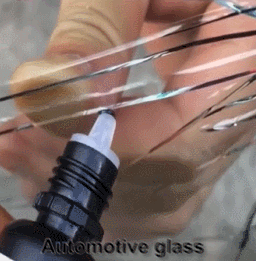 Instructions: ?

Once the damage occurs, cover the area with transparent adhesive tape to prevent moisture and dirt from entering the damaged area.??

Damage should be repaired as soon as possible to prevent the spread of small cracks.???? ?

The ideal applying temperature is 60¡ã to 90¡ã(15¡ã to 32¡ã).? ??

The surface must be clean and dry for proper repair.???? ?

Do not?over use the glue if there is no need to, take your time when applying. ?

Important! In order to reduce the risk of chemical contact with skin and eyes, you must wear safety glasses and gloves when using this product.? ?
Package includes:
1 x repair resin
5 x curing strips
1 x sleeved razor blade